November 6, 2023
SEEG RECYCLING COMPETITION 
On the occasion of Vietnamese Teachers' Day, Special Em's Education Group would like to announce the competition named "SEEG RECYCLING COMPETITION", which aims to honoring our special right educators' creativity and enthusiasm as well as spreading the message about protecting our environment and living a greener lifestyle.
TIME: 1/11/2023 – 20/11/2023
PARTICIPANT: All educators working at Special Em's Group including Special Em's Education Center and Vietnamese International Clinic for Autism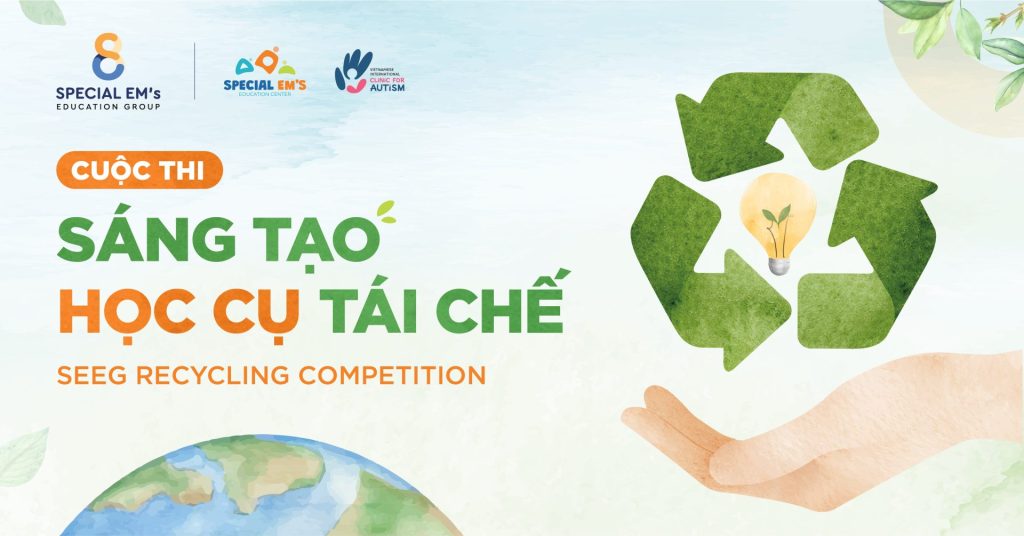 III. COMPETITION RULES:
Requirements:
– Create usable and useful teaching tools from plastic and waste from our center and your daily life (Plastic bottles, plastic bags, …).
– Recycle the used teaching tools to create new toys or useful tools.
Rules:
– Use plastic materials and waste to create your work
– The maximum size of entry is one meter
– Beside the entry, a brief presentation  or script to describe your work and explain its use, is necessary and compulsory.
– Entries need to combine creativity, innovation and usefulness for education, especially bring positive messages about recycling and environment.
Organizer's Authority:
– Organizer will have authority to use your entries for our branding and promoting activities
– Organizer will hoard and not return all participants' entries.
SUBMISSION:
TIME TO SUBMIT:
– Time to submit your entry: From November 3rd to November 17th, 2023
– Result Announcement: November 20th, 2023
PLACE TO SUBMIT YOUR ENTRY:
– Please submit your work at SEEG Office at Room Em's Heart, Ground Floor.
* Notes: Organizer will not be responsible for your delays and misplacing your work before officially submission.
REWARDS:
– 01 1ST PRIZE: 1.000.000đ (One million Vietnam dong)
– 02 2nd PRIZE:  300.000đ (Three hundred Vietnam dong)
– 01 THE MOST POPULAR ENTRY: 500.000đ. (Five hundred Vietnam dong)
The result will be based on the engagement that the photos of your recycled works on social media channels including 2 following Fanpages: Special Em's Education Center and Vietnamese International Clinic for Autism.
SEEG RECYCLING COMPETITION is live, participate now!
SPECIAL EM'S EDUCATION GROUP'S BOARD OF MANAGEMENT.