October 21, 2021
What Parents And Special Rights Children Should Do To Prepare For The First Grade In An Inclusive Online Learning Environment
Entering first grade is the first important turning point in every child's life. It is the number one concern of parents, educators, and the whole society, because it is full of opportunities and challenges for children's phenomenally growth.
Previously, when children could still go to school to interact with teachers and classmates, they only needed assistance to engage in new activities suited for their age group, such as "Adapting to a new environment" and "Participating in educational exercises". Nowadays, even though children might benefit from an inclusive online learning environment, as in studying in their own familiar space, they and their families may require additional support when communicating with teachers and peers is limited to small screens.
With extensive experience in counselling parents on online learning, our experts have recognised some difficulties that children with special rights often face:
Difficulties to concentrate
Difficulties in acquiring and attaining knowledge
Difficulties in adhering to classroom rules
Some health risks (vision, hearing, musculoskeletal system)
What can parents do to help children overcome the obstacles and adjust to today's online learning? We hope that this blog post will provide parents with the answers they are looking for.
To address these concerns, Special Em's, together with Master of Psychology Le Thi Xuan and Master, Psychotherapist Ho Tam Dan, will provide some valuable advice on how parents can prepare children and families to overcome challenges and adjust to the form of online learning when entering the inclusive educational environment.
1. HELP CHILDREN ENHANCE THEIR CONCENTRATION
"Little and often fill the purse."
Parents can observe to determine how long your child's concentration lasts while sitting at their desk, in front of the computer screen without showing sign of weariness, and from there, set goals to best fit them. Don't forget to discuss those goals with them and propose appropriate rewards to boost their motivation. For example, if your child runs away after 20 minutes of studying, you can propose a goal of studying for 25 minutes with a reward (i.e., his/her favourite food). At the same time, parents can organise fun activities at their desk in a set time, such as circling the letter game, drawing – colouring, cutting – pasting, or kneading the dough together to make numbers and letters, etc.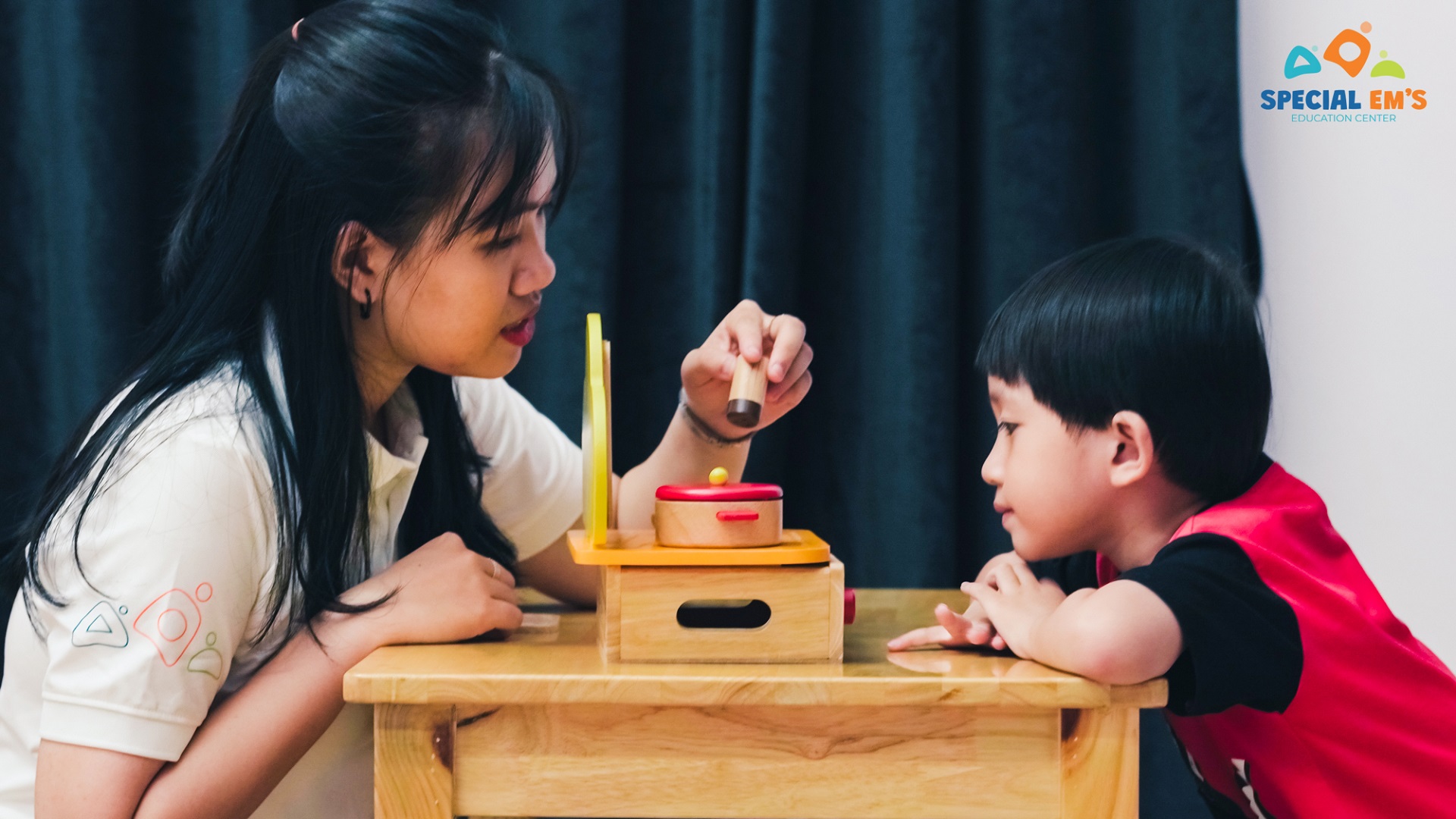 2. WITH CHILDREN, FIND THE RIGHT WAY TO LEARN
"What is important is the progress the child has made today, compared to yesterday."
Because each child learns in a different way and at a different pace and children with special rights particularly require a more intensive learning method tailored for their abilities, parents can take the initiative to discuss the child's conditions with the teacher to make suitable recognitions and adjustments. As a result, teachers can assign exercises or call on them to answer questions that fit their abilities, which would, in turn, boost their confidence. In addition, parents can help them review knowledge that they did not understand in class through various activities, such as playing games, having conversations, watching videos, etc. Parents can also have a consultation with teachers and ask the special teacher who is teaching them at home for adjustment, or consult with professional experts to find an effective learning method.
3. HELP CHILDREN TO GET FAMILIAR WITH RULES
"A wall is made of bricks."
The first bricks are crucial for laying a solid foundation for the future. Parents should clearly communicate the rules to children and, more importantly, enforce those rules consistently.
Introduce your children to the rules of the class ahead of time, such as "raise your hand when speaking", "keep silent/turn off the microphone while the teacher is talking", "finish the assignments before coming to class". Parents can print out pictorial illustrations of those rules and post them in places where children study so that they can remember and follow them.
Prepare outfits that are neat and different from what they often wear at home, such as school uniforms, old school uniforms, etc., to make them feel like they are in an actual class. Even though it is still learning online at home, this will promote children's adherence to the classroom rules.
Observe which rules your children is struggling with, then organise role-playing activities, role plays, and games with rules to reinforce them. When your children are playing, parents should always emphasise and remind them to follow the rules.
4. HELP CHILDREN TO BUILD A GOOD HEALTH FOUNDATION
"Healthy body, clear mind."
When children participate in online learning, both their physical and emotional health might be affected.
Sight: Parents should make sure that children's study area is lightful and remind them to keep a suitable distance from the screen. After about 20 minutes of looking at the screen, they should close their eyes for about 20 to 30 seconds. Furthermore, children can relax their eyes by gazing at a distance of more than 60 meters or at the green of bonsai trees.
Hearing: If the circumstances allow, parents should allow children to use speakers. However, if headphones are preferred, teach your children to keep the volume at a reasonable level and clean them regularly.
Musculoskeletal system: Sitting for an extended period can have negative consequences on children's musculoskeletal system. Because parents are the best role models for children to follow, parents should develop a movement habit with their children.
Nutrition: Each meal and night's sleep contribute to good health. Parents should make sure that your children eat a balanced diet and sleep on the proper schedule. Breakfast, in particular, should not be overlooked because it has a favourable impact on your child's ability to remember and pay attention.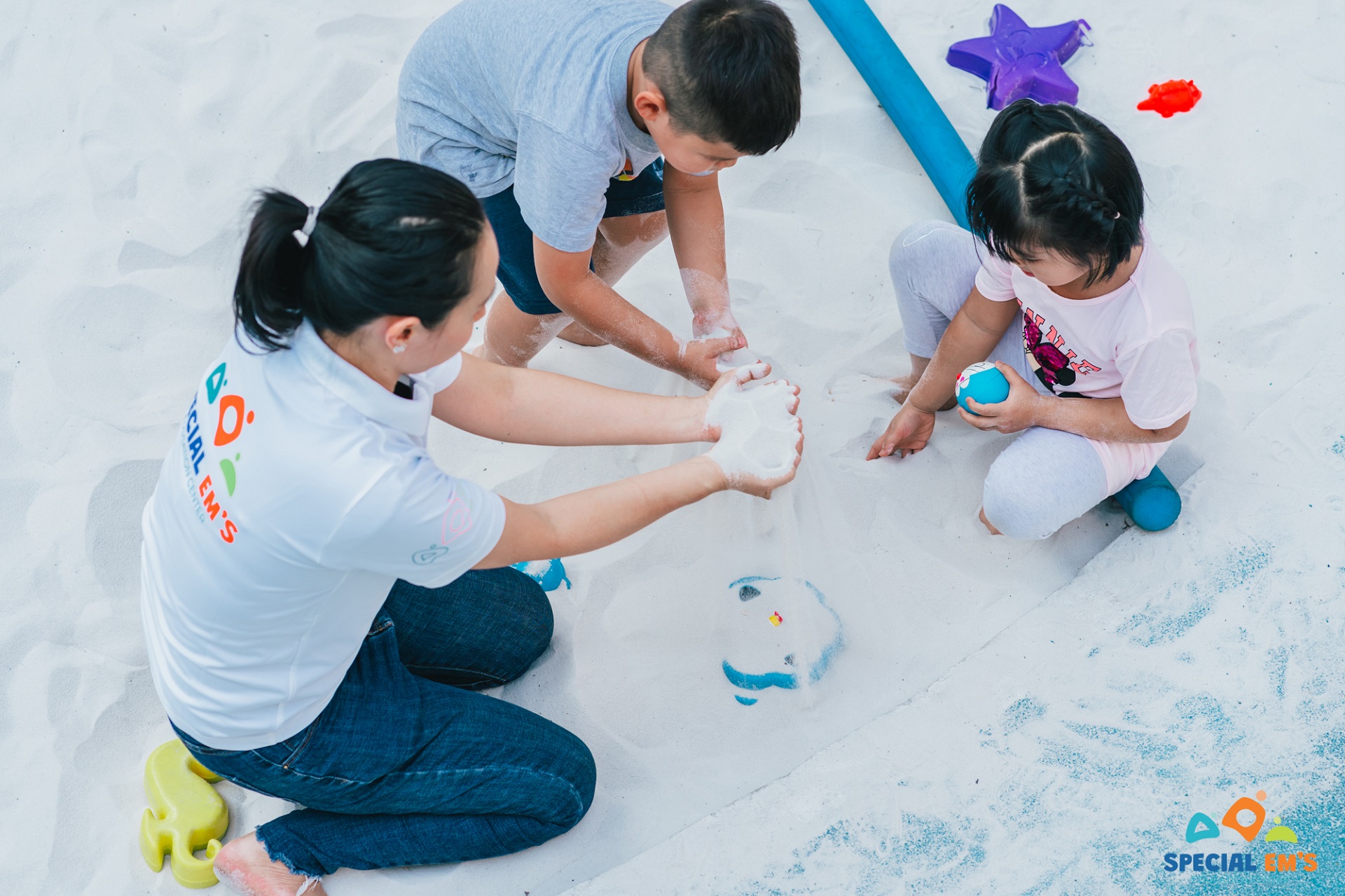 Nevertheless, parents should not be overly concerned. Isn't it true that every new adventure comes with unique challenges? Special Em's believes that children with special rights will make steady progress in their developmental journey thanks to the unconditional love of their parents and timely support from our professional experts.